Renault Hybrid & Electric Vehicles
DRIVE ELECTRIC WITH RENAULT
From Fully Electric, to the E-TECH Hybrid and Plug-in Hybrid, driving green has never been easier with our electric, hybrid and plug-in technology...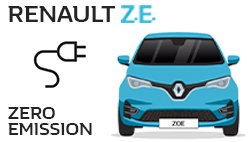 Z.E. - 100% Electric
Enjoy zero-emission driving in the New ZOE, with up to 245 miles of range, a free home wall box, an 8-year traction battery warranty and MY Renault app connected services.
• New ZOE
• TWIZY
• All-New ZOE VAN
• KANGOO Z.E. 33
• New MASTER Z.E.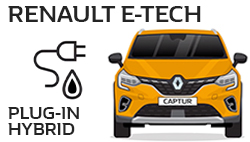 E-TECH Plug-in Hybrid
With a plug-in battery and electric motor capable of day to day, zero-emission electric driving and a petrol engine giving the flexibility to drive in electric, hybrid or petrol modes.
• All-New CAPTUR E-Tech Hybrid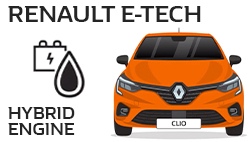 E-TECH Hybrid Engine
Enjoy the advantages of hybrid technology with confident acceleration, reduced fuel costs, lower emissions and a dynamic driving experience. No charging or plugging in.
• All-New CLIO E-Tech hybrid
CHOOSING AN ELECTRIC VEHICLE
Renault Z.E. Cars
Experience the modern way to drive with our 100% Electric, Z.E. 'Zero Emission' Electric Technology.
Under the bonnet, the combustion engine has been replaced with an electric motor, powered by advanced batteries, removing the noise and emissions of a petrol or diesel vehicle.
With a range of up to 245 miles on a single charge, the Renault ZOE also features a range of connected services, allowing drivers to warm the car before use, managing charging and planning your routes.
---
Renault E-TECH Plug-in Hybrid Cars
The options of driving in full electric mode or using the combustion engine with added green benefits.
Contrary to full hybrids, you need to plug-in rechargeable hybrid vehicles to fully charge them. They have higher capacity batteries that are charged with regenerative braking.
In order to take full advantage of a Plug-in Hybrid's green features, they need to be plugged in and charged regularly like electric vehicles. This allows you to drive in full electric mode for shorter journeys and commutes. Drive with the combustion engine to cover much longer distances in one go. You also benefit from a greater selection of driving modes, especially SPORT mode which can be found under the MULTI-SENSE settings.

---
Renault E-TECH Hybrid Engine Cars
A combination of one combustion engine and two electric motors.
Renault hybrid vehicles have a 1.6-L petrol engine paired with two electric engines - an alternator and a traction motor - as well as a 200V battery.
E-TECH draws on the brand's expertise in electric technology to offer a selection of electrically-powered vehicles. With innovative energy recovery technology, it expands the range of possibilities for electric driving and is an excellent gateway powertrain for anyone not yet convinced that electric driving is for them.