MOTABILITY OFFERS
Right Car is delighted to be Premier Partner of Motability. We have Motability trained specialists who are ready to answer your questions and help you choose your car. We'll also guide you through the simple process and do all the paperwork for you.
What is the Motability Scheme?
The Motability Scheme is a charity-operated programme that enables people with disabilities to exchange their mobility allowance to lease a new car, scooter, or powered wheelchair.
It's an affordable and convenient way for disabled people to get mobile. By joining the scheme, you gain increased freedom and independence plus the thrill of having your own brand-new vehicle.
A huge range of makes and models are available from Right Car, meaning you can find the right car for you.
Vehicles can also be fitted with adaptations according to your needs, helping you drive, access, or store mobility aids in your car. You can name up to two named drivers for your vehicle, and you get to choose a brand-new car every three years.
Am I eligible for the Motability Scheme?
Checking your eligibility for Motability is Easy. As long as you receive one of the below mobility allowances, and have at least 12 months award length remaining you can join the scheme:
Higher Rate Mobility Component of Disability Living Allowance (HMRC DLA)
Enhanced Rate Mobility Component of Personal Independance Payment (ERMC PIP)
War Pensioners Mobility Supplement (WPMS)
Armed Forces Independance Payment (AFIP)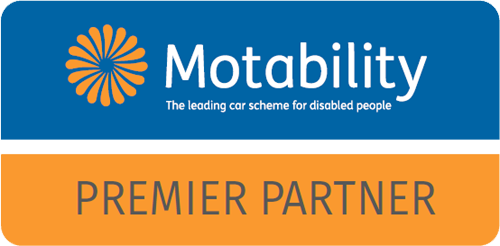 Right Car are proud to be a Premier Partner of the Motability scheme.