Motability General Information
Contract Hire Scheme (Leasing) The contract hire facilities are provided by Motability Finance Ltd, City Gate House, 22 Southwark Bridge Road, London SE1 9HB (MFL). To be eligible for the Scheme you must be receiving the Higher Rate Mobility Component of Disability Living Allowance (DLA) or War Pensioners' Mobility
Supplement (WPMS).
Rental payments under the contract hire agreements are currently equal to, or less than, the Higher Rate Mobility Component of the DLA. Where the rental payment in the tables is stated to be "T/ A" (Total Allowance) or "Total" this means that the four - weekly rental payments will be equal to four times the current weekly Higher Rate Mobility Component of the DLA, as this is varied from time to time by the Department of Social Security (DSS). You should note that the level of the rental payments (and your obligation to make these payments) is unaffected if you cease to be entitled to the Higher Rate Mobility Component of the DLA or the WPMS (although if this happens, MFL is entitled to terminate the contract hire agreement). Rental payments (at the rate set out in the application rental tables) will be payable at four-weekly intervals.
Advance Payments
Some vehicles require an advance payment varying from Ł10 to a few thousand pounds (see Current Quarter Pricing). The advance payment and weekly rental you pay for contract hire cars, is covered by a Price Guarantee. This means that the price you agree to pay on application, once accepted by Motability, is the price that you will pay when you collect your car. The price guarantee is valid for however long it takes for your new car to be delivered. The only time when the price may alter is if the car description is changed subsequent to the initial application. If this is the case, your dealer will discuss the options with you.
Insurance
The payment of insurance premiums is covered by MFL. As Motability scheme cars are covered by a "block policy", no claims discounts are not available. Motability scheme cars carry an insurance excess. Irrespective of whether an accident was your fault, you pay the first Ł75 of any insurance claim. A higher excess may apply for some categories of drivers or for certain models (ie Megane Coupe Cabriolet). The excess will be refunded, if an insured third party was at fault.
Maintenance and Repairs
The Contract Hire Scheme covers all routine maintenance and servicing costs. Tyres will be replaced free of charge during the course of a contract hire agreement, subject to fair wear and tear. Customers are responsible for arranging servicing and maintenance. The Contract Hire Scheme covers breakdown assistance services for all cars.
Excess Mileage
Under the contract hire scheme, charges are made for mileage in excess of 15,000 miles per year, i.e. you are entitled to drive 60,000 miles over the three years and 100,000 for five-year Wheelchair Accessible Vehicle (WAV) agreements. These charges, currently 5 pence for every extra mile, must be paid annually to MFL's maintenance agent. If you have paid annual charges but at the end of the three years your total mileage is less than 60,000, Motability will refund the excess mileage charges paid. If you are likely to have high mileage, you may wish to consider the hire purchase scheme which has no mileage limits.
Adaptations
If you require adaptations, such as steering wheel knobs, wheelchair hoists and hand-controls for brakes and accelerators, they will be at an additional cost, as will their removal at the end of the hire agreement. Adaptations to your Motability vehicle must be carried out by a Motability Accredited Adaptation and Conversion Specialist.
Optional Extras
If you want any optional extras, i.e. which are not fitted as standard on the vehicle you have chosen, such as a satellite navigation system, you should arrange for them to be provided by the supplying dealer and pay the dealer directly. Please note that metallic paint is included on all our vehicles purchased through the Motability scheme.
Financial Assistance
Motability's charitable fund may be able to help if you are unable to afford the advance payment on some lease vehicles and, in some instances, driving lessons.
Applying for the scheme
Once you have chosen a car, the Motability specialist at one our accredited dealers will complete the application form with you and will forward it to Motability on your behalf.
When you apply for the scheme, you will need to supply the dealer with:
Your driving licence
Your award entitlement notice
Driving licences of other named drivers (they will need to sign the application form)
Details of any accidents or driving convictions involving you or your named drivers
Vehicle Excise Duty (VED) exemption certificate if applicable
Important - Please note that vehicles can only be supplied by a dealer who has been Motability accredited. Please check with your local dealer that they are currently accredited.
Other information
Please consult the Motability Scheme Application Brochure for full information relating to the contract hire and hire purchase schemes. This brochure can be obtained from Motability's Customer Services, on 0300 456 4566 between the hours of 8.30am - 5.30pm, Monday to Friday. Alternatively, call 01279 632213 for Minicom. The terms, conditions and prices set out in these lists are correct at the time of publication, but may be subject to adjustment in the event of any changes taking place which affect the cost of the provision of the contract hire. Please check with your accredited dealer for the latest prices.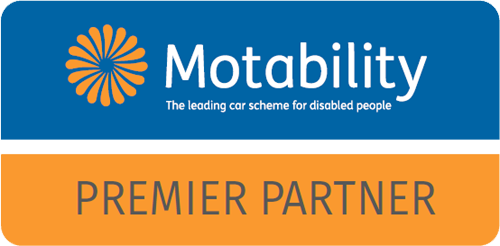 Right Car are proud to be a Premier Partner of the Motability scheme.